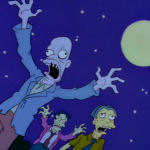 (Zombies- Simpson Style)
Every morning my lil dog wakes me up (usually between 7 and 8) he starts by begging (sitting on butt and putting his paws together in the air and moving them up and down, also looks similar to praying) then he jumps into the bed with me and get partically on me and licks my hands and sometimes my face....thus waking the "dead"....after a few minutes i stagger out of bed and prepared myelf to walk the dogs. I would say, since i take them out immeadiately, that i probably look like a zombie to other people. I walk slowly, my head slightly down, if the dogs bark i just let them, i try to not open my eyes wide and just "go through the motions" until i think they're done and get them to go back up the steps....I have on no glasses, my hair is tossled and my clothing: sloppy! & instead of craving/moaning for "Brains" it's more like "Fakuccino"* lol
But anywho....today I'm watching 2 out of 7 Zombie movies I own (Dawn of the Dead -fav, Return of the Living Dead).
Do you watch Lost? I caught most of last night's episode....Jacob said something about Jack being important.... Is this whole thing for Jack? Who is Jack supposed to be in Jacob's eyes? Is it me or does this seem like some religous influences? I'm on a spiritual high lately so forgive me if i incorporate it into everything! Even Lost...but it seems like (could be so wrong!) that Jacob is like a "God" figure, the newly fake John is like a "devil" type figure and Jack?? is a "jesus" figure? Which could give the "Lost" title i whole different meaning (not Lost on an island/ from mankind but Jack was Lost and God is directing him?) go

here

to read more on this...

I recently made one of those packages of ready-to-bake cookies and of course they're all gone but I'm in a cookie kind of mood so i might bake up some today. I found this recipe in my mail box which is for choc chip cookies but uses an interesting ingredient- pudding mix, has anyone tried this? Not sure if Ill venture onto it today but thought it was worth posting....check it out

here

Check out the Sunday insert

here

(just 1)....nothing super special to me but i might have to order some coupons or at least next week b/c i got to use the $4/1 Knox coupon on $1.?? gelatin...i got the overage at Publix!!!! So needless to say, If i can buy a few boxes each trip that means I can score some free stuff ... but i won't go overboard b/c i don't want them to question my totally legit couponing deal....(they tons of the Q's left at thecouponclippers.com, which surprises me)

New Product at Walmart? I was in the freezer meat area and noticed some roll pkg (like bulk sausage) of Turkey meat, i think they were Italian & Taco flavored, and the sticker above it said $1.... Seasoned Turkey meat for $1? Although I wouldn't normally consider any seasoned meat and I do usually like my turkey meat all white (those pkgs aren't usually)...if i were making ground beef tacos, maybe this might be something to substitute..... especially if it's half the $.... I really wish I just find white ground turkey for a good $ (my walmart has them around $2.99/lb, once i got it cheaper b/c they had some on clearance and I had a coupon but i hardly ever seen any "reduced" meat at my walmart, what about you? anyone know what day they reduce the meat?)
Well that's all i got for now.... gonna continue to watch my Zombies! & later cook that BBQ Rib dinner.... (had to postpone b/c Rob got called into work right as I was about to start the Ribs, so he's off tonight instead!)
*FYI: Fakuccino= fake Folgers Cappuccino powder mix (just add hot water) YUM!